The DIGI-BOX 65 is a device dedicated for cash register applications. Thanks to the use of passive cooling, the computer functions stably and produces low noise.
The small size of the housing enables you to save space in your point of sale.
The number of ports available (bookmark: technical data) enables the connection of several various peripherals, e.g. cash drawer, barcode scanner, scales, etc.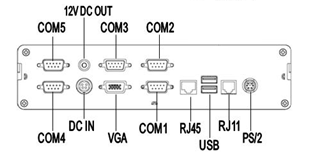 The terminal is compatible with all the sales programs (retail and food serving facilities) functioning in the Microsoft and Linux environments.
The DIGI-BOX 65 computer has no operating system installed. There is an option to buy and install the POS READY 2009 or POS READY 7 operating systems.