A terminal with Windows Embedded system and colour touch screen gives way to numerous new options, unavailable to font collector users. Its higher computing power enables operation on
larger PLU's
, while
higher and higher definition
of the displays enables transmission of more information.
The wireless
communication commonly available in these terminals provides potential for building a perfect tool to support work in a warehouse or retail space.
The terminals with Kolektor CE exchange data with the warehouse system through the terminal server, a program installed on the computer. The server provides the terminals with any number of PLU's, documents to be completed and contracting parties base and it provides the warehouse system with the documents created by the terminals. For warehouse systems in which the terminal server connects with the base through
the customer account
, it may operate in the background, which enables its work without the user's operation and the
"direct"
communication between the terminals and the warehouse system.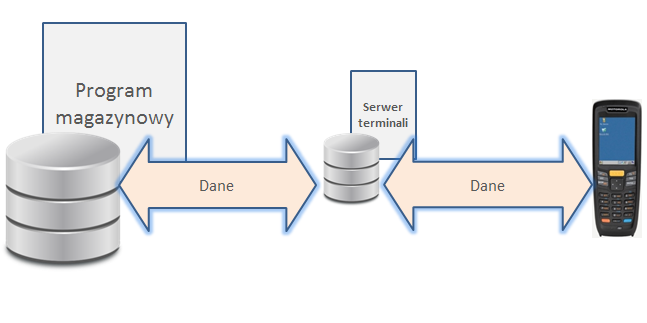 Warehouse program – data – terminal server - data
Kolektor CE terminal cooperates with the server off-line, connecting with it for data exchange purposes only. The communication between the terminals and the servers may be via cable or wireless, in both cases
the socket connection
is used (server IP: port).